Aquarium Books Laurren Recommends To His Clients
SCOTT W. MICHAEL  "A POCKET EXPERT GUIDE TO MARINE FISHES: 500+ ESSENTIAL-TO-KNOW AQUARIUM SPECIES"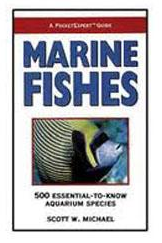 Scott W. Michael  "A Pocket Expert Guide to Marine Fishes: 500+ Essential-To-Know Aquarium Species " is a wonderful book when picking out fish to add to your saltwater aquarium. This book is filled with color photos, gives beneficial information about how large a fish will grow, what it eats, compatibility with other fish and much more. Best of all the book is small making it easy to carry with you into your local fish store. For more information on A Pocket Expert Guide to Marine Fishes 
Click Here.
THE MARINE FISH HEALTH & FEEDING HANDBOOK: THE ESSENTIAL GUIDE TO KEEPING SALTWATER SPECIES ALIVE AND THRIVING

If you are looking for a book with useful advice for preventing, recognizing and treating many common saltwater diseases then check out "The Marine Fish Health & Feeding Handbook: The Essential Guide to Keeping Saltwater Species Alive and Thriving" The authors Bob Goemans and Lance Ichinotsubo are life long hobbyist. Lance is sill actively servicing high end aquariums for his clients as well as has a retail aquarium store in Pompano Beach, Florida. This book is written in plain easy to understand text and goes deep into the benefits of a healthy aquarium, good nutrition and its relationship to fish diseases. It has many color photos showing what diseases look like on a fish. Hopefully you will not have to battle fish diseases but if you do this book is a great resource. For more information on "The Marine Fish Health & Feeding Handbook"
Click Here.
AQUARIUM CORALS : SELECTION, HUSBANDRY, AND NATURAL HISTORY BY ERIC H. BORNEMAN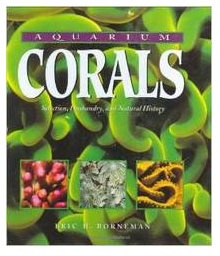 This is a great book for the reef hobbyist. It is written like a text book making it a little more difficult to read for the beginning hobbyist. "Aquarium Corals" is packed with quality information on a broad variety of commonly kept and not so commonly kept corals. It has a wealth of information on coral placement, feeding and care. There is a section on keeping your corals healthy as well as coral diseases and how to treat them. This book goes into much more depth than most hobby need but it is wonderful reference guide when you have a question about a particular coral. For more information about Aquarium Corals : Selection, Husbandry, and Natural History