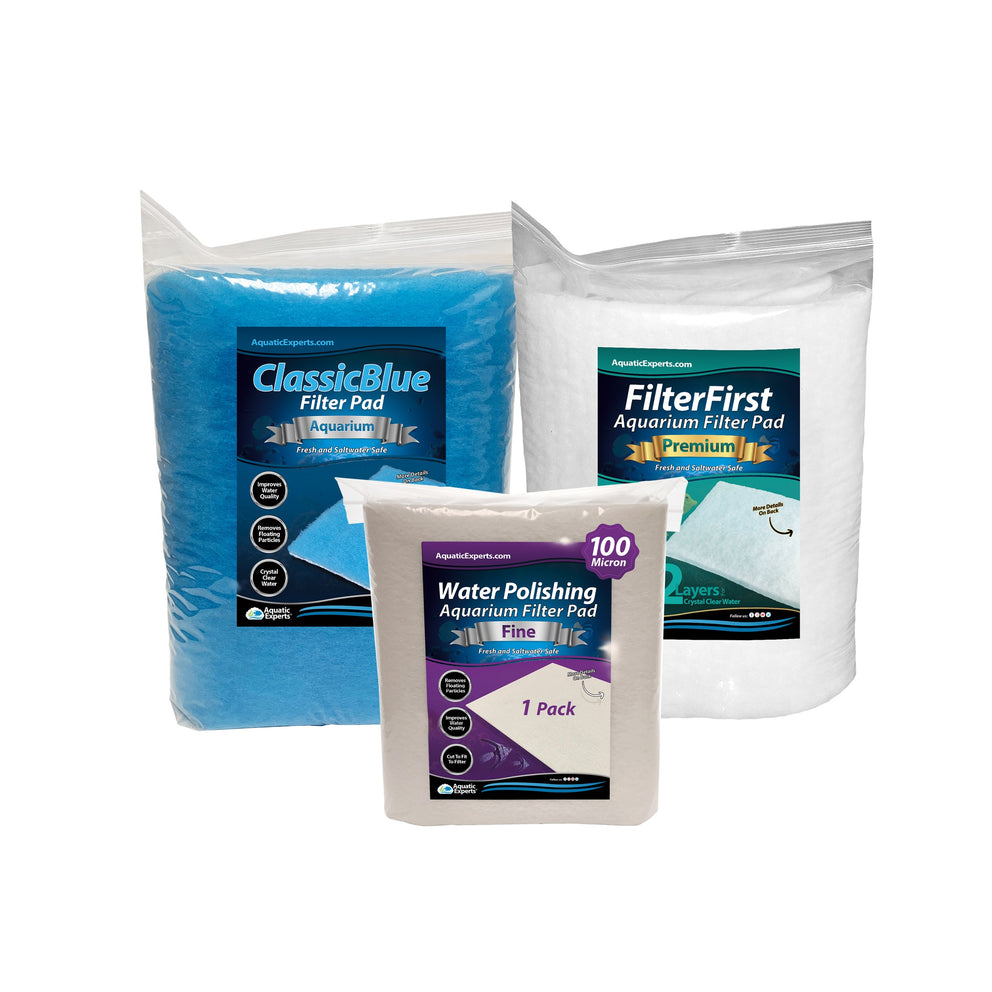 FilterFirst 12"X72" + ClassicBlue 12"X72" + 100 Micron Polishing Pad Bundle
$ 42.99
$ 47.97
Aquarium Bundle - Premium Filter Pad, Polishing Pad, and ClassicBlue Filter Pad FilterFirst Dual Density Pad - Our Premium TRUE dual density filter media is the top choice for my clients as well as my aquarium service technicians. Our NEW 3rd generation dual layer pads are even thicker than before. The top layer's open fiber construction traps LARGER PARTICLES while the bottom layer's dense fiber network TRAPS FINE PARTICLES - working together to produce crystal clear water in your aquarium. (12 in by 72 in by .75 in) Polishing Pad -  Our 100 Micron Polishing Filter Pads' dense fiber network traps large to very fine particles floating in your freshwater or saltwater aquarium to produce sparkling clear water. Its durable design allows THIS PAD TO BE CLEANED AND REUSED MANY TIMES. (24 in by 36 in by 1/8 in) ClassicBlue Filter Pad - Our Classic blue and white filter pad is a popular multipurpose filter media perfect for freshwater or saltwater aquariums. The filter pads' resilient fibers trap floating debris to help KEEP YOUR AQUARIUM WATER CRYSTAL CLEAR; the open fiber construction promotes water flow and prevents premature clogging. (12 pack 72 in by .75 in)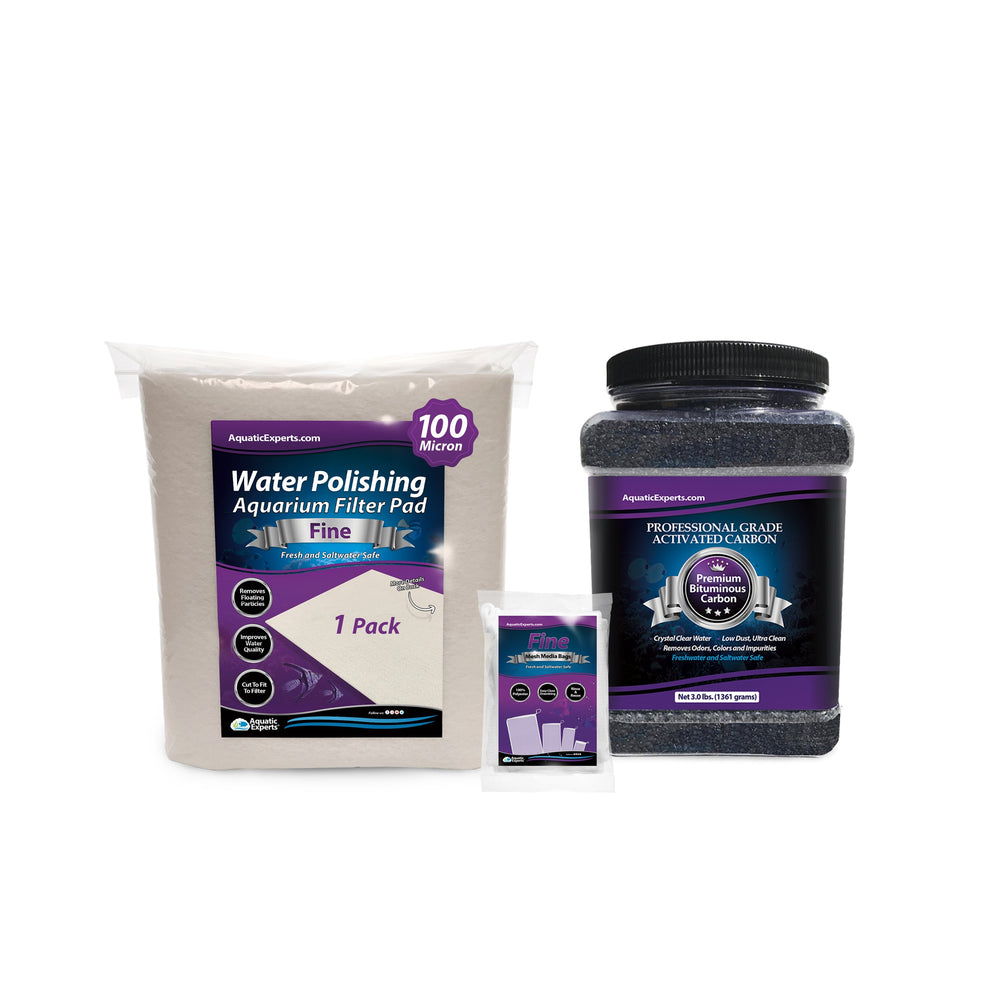 Carbon 3.0 + 4 Pack Fine Mesh Bag 3"x8" + Polishing Pad 100 Micron Bundle
$ 46.99
$ 51.97
Aquarium Bundle - 3.0 lb Activated Carbon, Fine 3" x 8" - 4 pk, Polishing Pad 100 Micron - 1 pk These products work perfectly together removing discoloration, foul odors, and fine particles from water. The Fine Mesh Media Bag has the optimal hole to freely flow water around our Premium Carbon. You will receive four 3 inch by 8 inch mesh bags. 100 Micron Polishing Filter Pads' dense fiber network traps large to very fine particles floating in your freshwater or saltwater aquarium to produce sparkling clear water. Its durable design allows THIS PAD TO BE CLEANED AND REUSED MANY TIMES. Our 3.0 lb Activated Carbon removes discolorations as well as foul odors from aquarium water LEAVING A CRISP CLEAN SMELL. It has been super cleaned and is HUNGRY TO RAPIDLY TRAP CONTAMINANTS and TOXINS from your aquarium water.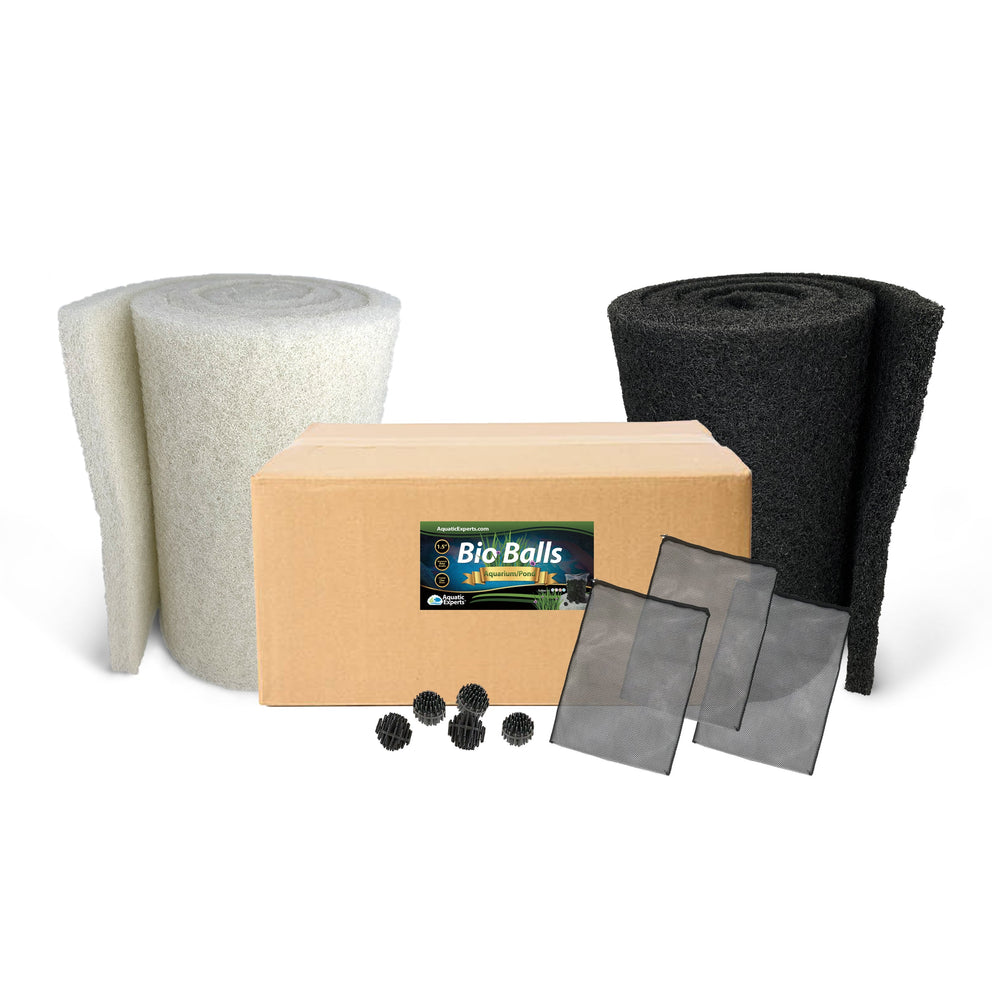 Black Coarse Filter Pad 18" x 72" + White Fine Pond Filter Pad 18" x 72" + 900 Bio Balls Bundle
$ 217.99
$ 229.97
Pond Bundle - Coarse Filter Pad, Fine Pond Filter Pad, Bio Balls Coarse Pond Filter Pad - Provides extra durability and strength to handle the heavy solid waste of outdoor ponds. Its open fiber construction allows for high volumes of water to flow through the pad without premature clogging while producing crystal-clear water. (18 in by 72 in by 1 in) Fine Pond Filter Pad - Our 1 inch thick Classic White FINE Pond Filter Pads provide excellent mechanical pond filtration for clean water while providing important oxygenation for your ornamental garden pond. Works great in combination with our Black COARSE Koi pond filter. A perfect replacement filter for the pond. (18 in by 72 in by 1 in) Bio Balls - Each bio ball is covered in spines to dramatically increase the surface area of each ball to nearly 2 square feet providing space for a massive number of beneficial bacteria to colonize. These good bacteria break down harmful organic waste keeping your aquatic friends safe. You will receive approximately 900 1-1/2-inch bio balls in a ready to use black mesh zippered bag. Just rinse and use.