Is Activated Carbon Right for your Aquarium?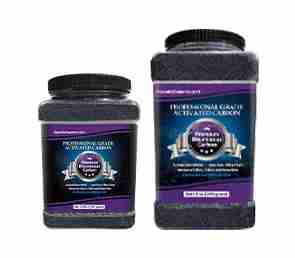 Activated Carbon, also known as activated charcoal, has been on the market for decades. It is a chemical filtration medium used for water purification, air purification, and even medicine! In the aquarium hobby activated carbon is by far the most popular filtration product, used in all aquariums whether freshwater or saltwater, as well as outdoor ponds.
What is activated Carbon?
There are many types of activated carbon but the one most commonly used is Granular Activated Carbon or GAC. ExtrudedActivated Carbon is also fairly common. A variety of materials can be used to make the carbon, resulting in differing pore sizes in the finished product. Coconut, peat, and wood are all inexpensive materials used to manufacture activated carbon. For aquariums, the best source is bituminous coal, which is what we offer at Aquatic Experts.

What Makes Aquatic Experts' Carbon The Best Choice?
How Does Activated Carbon Help?
Activated Carbon works through adsorption, which is particles sticking to the carbon inside the pores. The higher the surface area, the more particles will adhere to the carbon, and the faster it will happen. Activated Carbon will adsorb dissolved contaminants such as chlorine and chloramine, tannins (a pigment that comes from driftwood and causes a yellowish-brown tint), and phenols (which cause bad odors). So, not only does it make the water healthier for your aquatic pets by removing pollutants, it also makes for a clearer and odor-free aquarium for you and your family to enjoy!
Activated carbon is also good at removing the most common medications from your aquarium. Most medications will advise you in the instructions whether or not you should remove the carbon before medicating. After the medication has run its course the Activated Carbon will remove it.
How Do I Use Activated Carbon?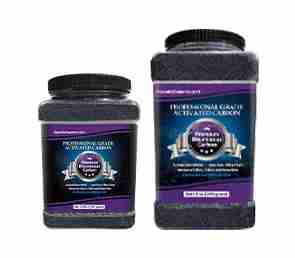 Placement of the Activated Carbon in your aquarium is vital to how well it will work. Of course, you will want to contain the carbon in a bag to keep the granules from going all over your aquarium. Use a Fine Mesh Filter Bag, like the ones we have available. Higher flow through the carbon will maximize their efficiency to work faster and remove more contaminants.
Activated Carbon will lose effectiveness when exposed to large amounts of waste and debris. Therefore, carbon should be placed after mechanical filtration media in the filter, such as our FilterFirst Premium Filter Pads and Water Polishing Pads. The mechanical filtration catches the debris before it can clog the carbon, leaving the carbon to remove dissolved particulates that the filter pad will not catch.
How Often Do I Change Activated Carbon?
Activated Carbon should be changed regularly: as it binds the contaminants it will eventually get "full" and stop working. For most aquariums, this takes about three weeks, although a tank with a heavy bioload may fill the carbon faster. Most of the adsorption happens within the first week, after which the efficiency slows and the remaining capacity is filled over the next two weeks.
Failing to replace the carbon will not immediately harm your aquarium, but old carbon can leach contaminants back into your aquarium over time. It can also leach phosphates that will fuel unsightly algae. Even if the carbon doesn't hurt your aquarium, it isn't helping anymore once it's full.
Also, Activated Carbon cannot be "recharged" at home. High enough temperatures will burn off the adsorbed contaminants; however, those temperatures can't be reached without special equipment. You can simply throw away the carbon, or you can mix it into the soil for your garden.
Do I Have to Use Activated Carbon?
No, but implementing Activated Carbon into your filtration will make maintaining a healthy and attractive aquarium much easier. Carbon is not a substitution for regular water changes, but carbon will remove pollutants between water changes so your tank stays cleaner. There are alternatives to carbon, like resins designed to absorb organic wastes. They can be the best solution for some aquariums, but carbon is by far the cheaper and easier product to use. We're happy to offer Activated Carbon at an affordable price and to make it easy by including a mesh bag.