Planted Aquarium Light Guide
Once you've set up with the right substrate for your planted aquarium, you need to select the most appropriate light fixture. Lighting has changed a lot in the last several years with the advent of effective and affordable LED lights. Nonetheless, older fluorescent and metal halides are still both widely used. Which lights you choose will dramatically affect the growth of your plants. In the second part of our series on planted tanks, we'll review the most common types of lights available on the market. Every brand is different, though, so be sure to research the individual fixture before making a purchase.


While researching lights, you'll see a lot of numbers associated with lights, not all of which are useful in determining the best option. Not all light is the same:plants require specific frequencies and will not thrive without them. Just because a light looks bright to human eyes - measured in lumens - does not mean it has what the plants need. The best indicator of a light's ability to grow plants is PAR, or Photosynthetically Available Radiation, which is a measurement of the intensity of frequencies necessary for photosynthesis.
LEDs
Plant Spectrum Fluval Bluetooth Freshwater Light LED (48" - 60")
Until recently,
LEDs did not have the range necessary to provide the frequencies essential for growth. Technology has advanced enough that LEDs have become a viable option for planted tanks. However, not all fixtures use those LEDs. Be sure to research fixtures before buying to ensure that they output the right frequencies and intensities.Some fixtures use lenses to increase penetration to get more light deeper into the tank. Most LEDs designed for growing plants (and corals) will list the lumens or PAR at different depths.

LEDs have a number of features over other kinds of lights. They are usually dimmable, unlike fluorescent and metal halide bulbs. Many - but not all - fixtures have red, green, and blue LED chips that allow you to customize the color. Premium versions can include advanced timers and settings to mimic sunrise, sunset, cloud cover, and even thunderstorms! LED bulbs are very efficient; they do not wear out, either, and will last the lifetime of the tank - or at least, until something new and better is released.These features come at a cost. LED fixtures will save money over time, but they have a high upfront cost.
Fluorescent
Fluorescent lighting is an old staple for aquariums that many plant (and coral) enthusiasts still swear by. Even the best LEDs produce a much narrower band that may not provide every frequency needed by all plants. Fluorescent light bulbs, on the other hand, produce a broad spectrum that has proven to be effective for growing plants. They are nearly as efficient as LEDs, too, and will keep your power bill under control.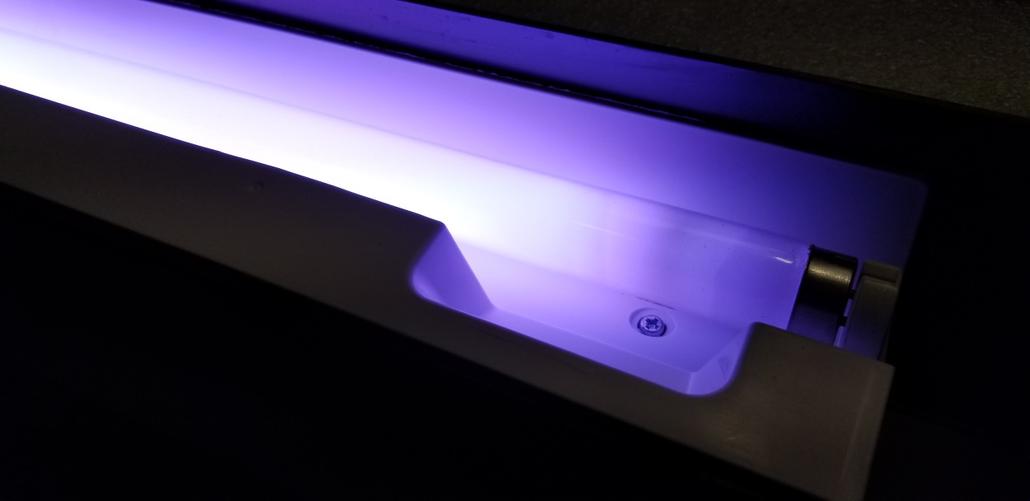 Fluorescent fixtures can be expensive, though - there's no getting around it, good lighting for your aquarium is always going to cost you! The best units have slots for six to as many as twelve fluorescent tubes. The bulbs will need to be replaced about annually, and the starters may need replacing every few years as well. They offer little customizability in color, although you can at least control the color temperature a bit - that is, a warmer reddish white, or cooler bluish light. Like many of the LED units, fluorescent fixtures may come with a built-in timer, although they are not dimmable.
Halides


The most expensive and most effective option is metal halides. They are rarely used today because they are horribly inefficient, wasting most of the electricity as heat. A high quality, strong LED light will use perhaps 150 watts at most. Even mid-range metal halide will use at least double that! All that waste heat has to go somewhere, so your air conditioning will have to run more, adding to the electric bill, and you may need to add an expensive chiller to your tank to prevent it from overheating.


Despite that, they are still used because of how powerful and effective they are. They're especially useful for large, deep tanks that need a lot of bright light to penetrate to the bottom. You'll find them mostly on very large aquariums - like the Georgia Aquarium's huge reef tank, and for commercial applications like aquarium plant farms.
Lighting may be the most complicated decision to make since there are so many options available.Some come with timers, dimmers, RGB color customization, WiFi compatibility...the list goes on. The most important thing is to provide the light necessary for your plants to grow. It should be mentioned that lights designed to grow coral in saltwater tanks are more than adequate for freshwater planted tanks, so you can include those in your search!