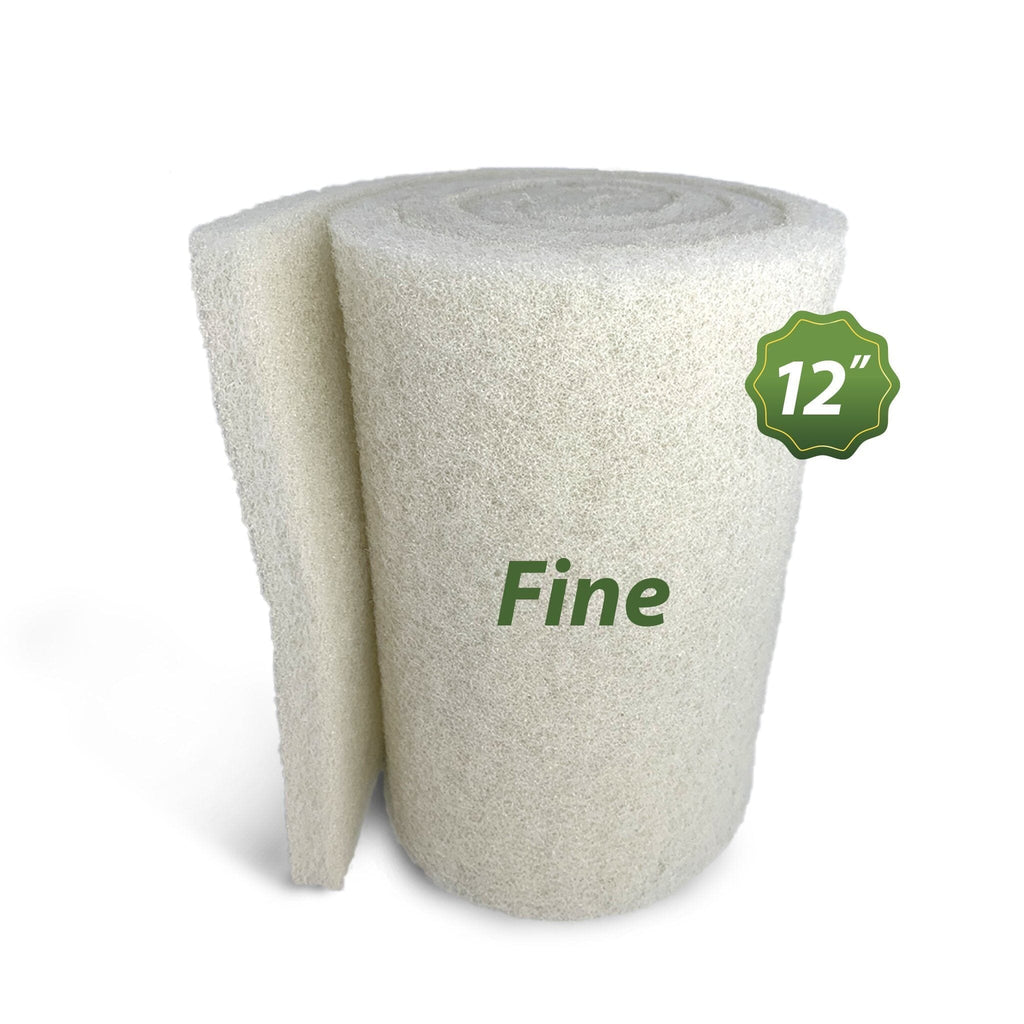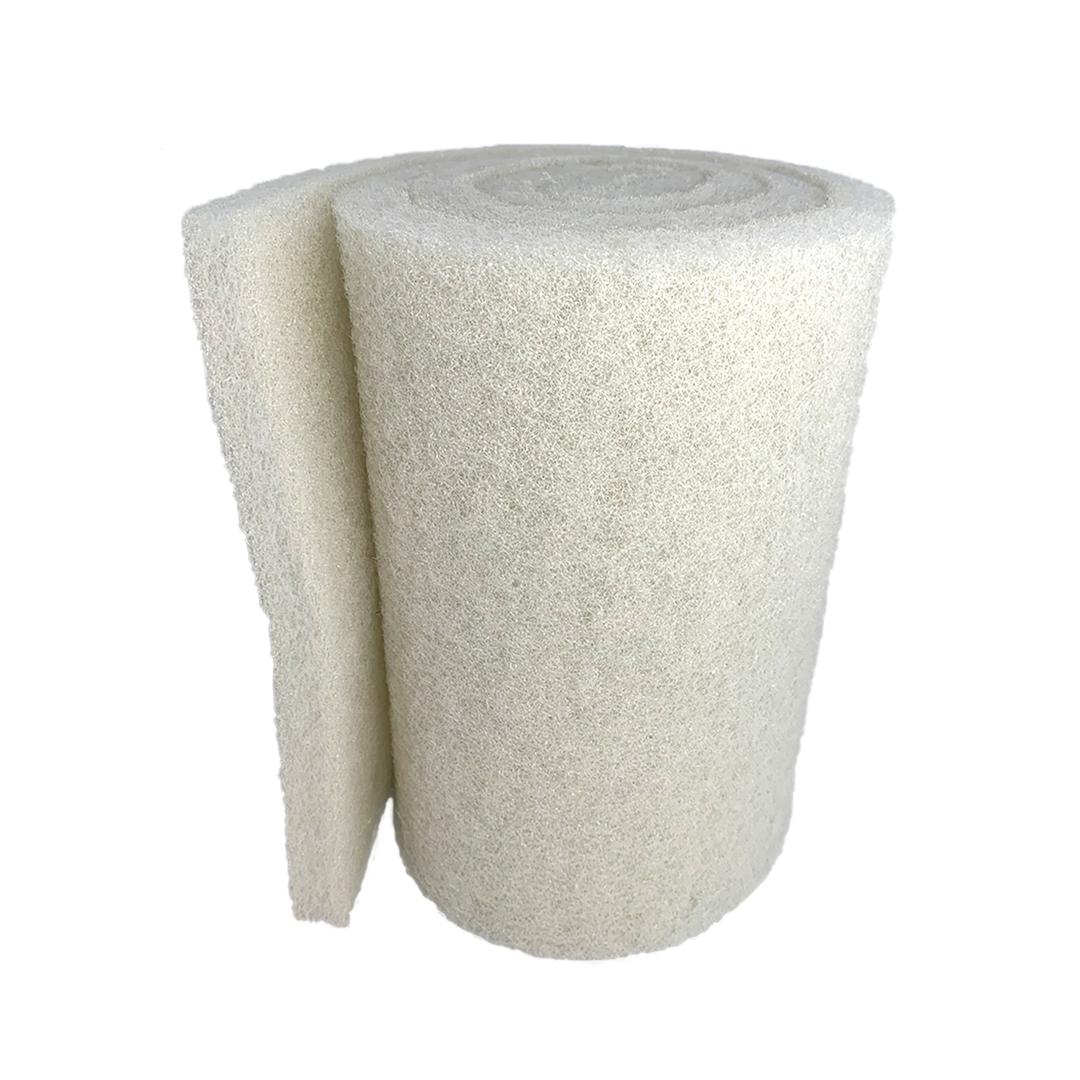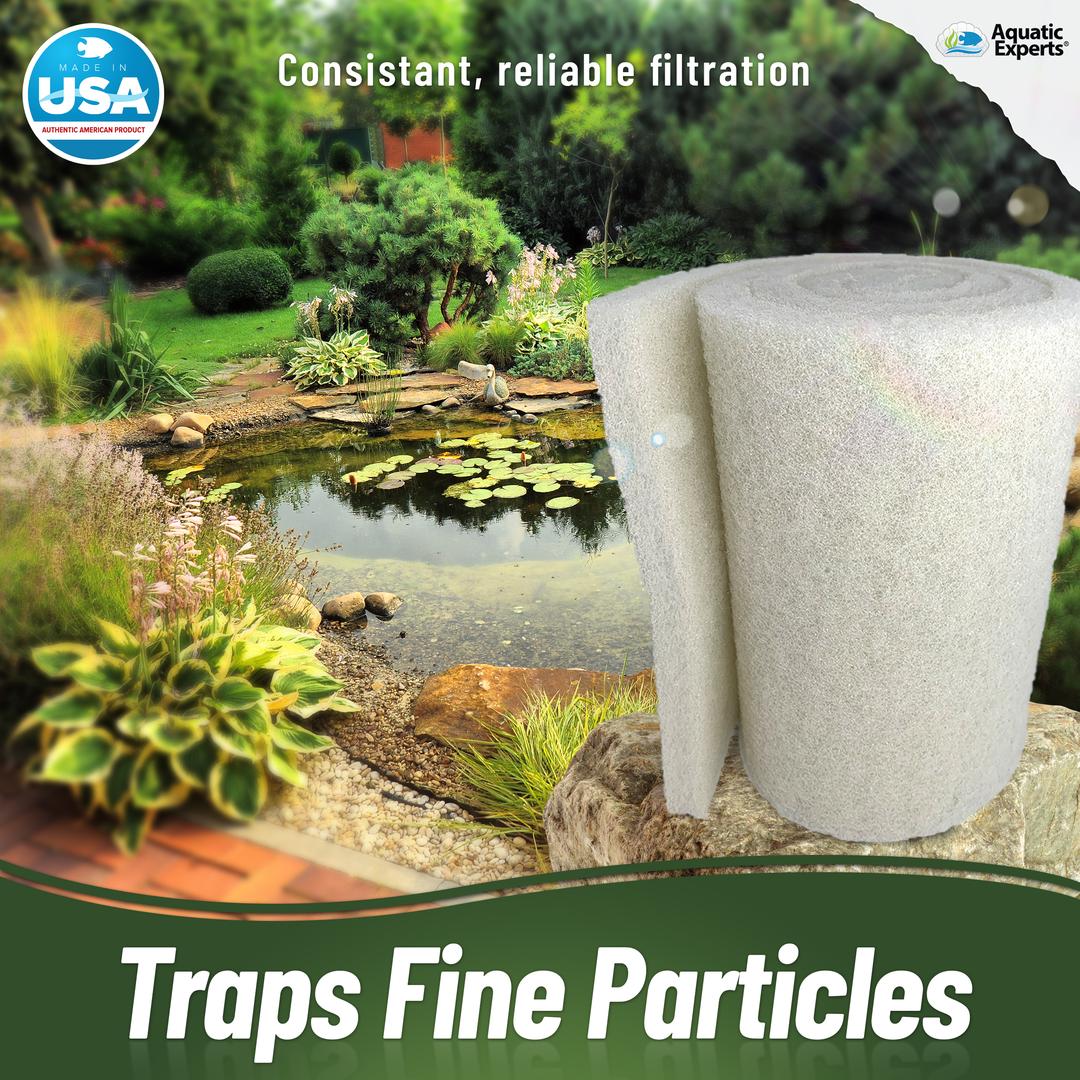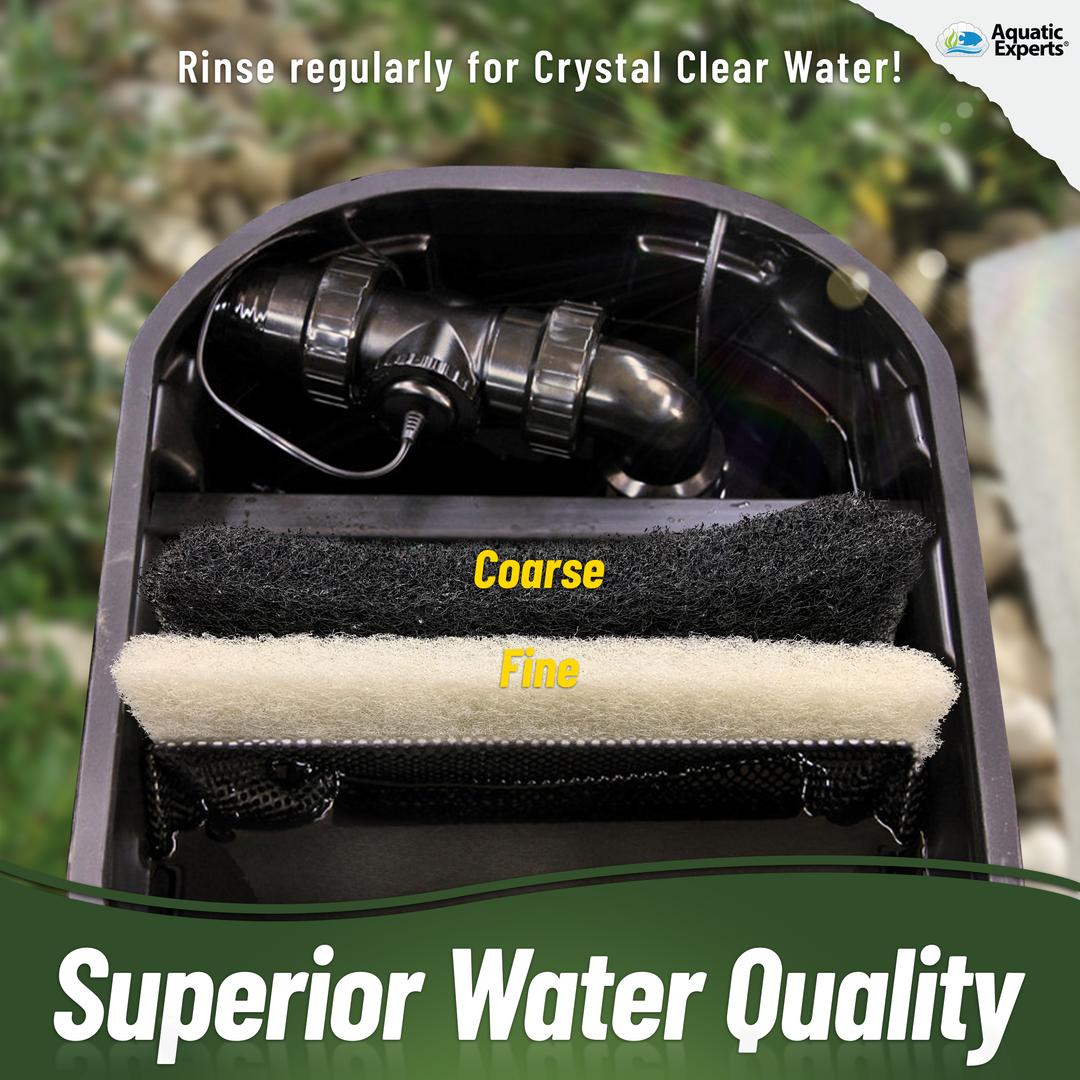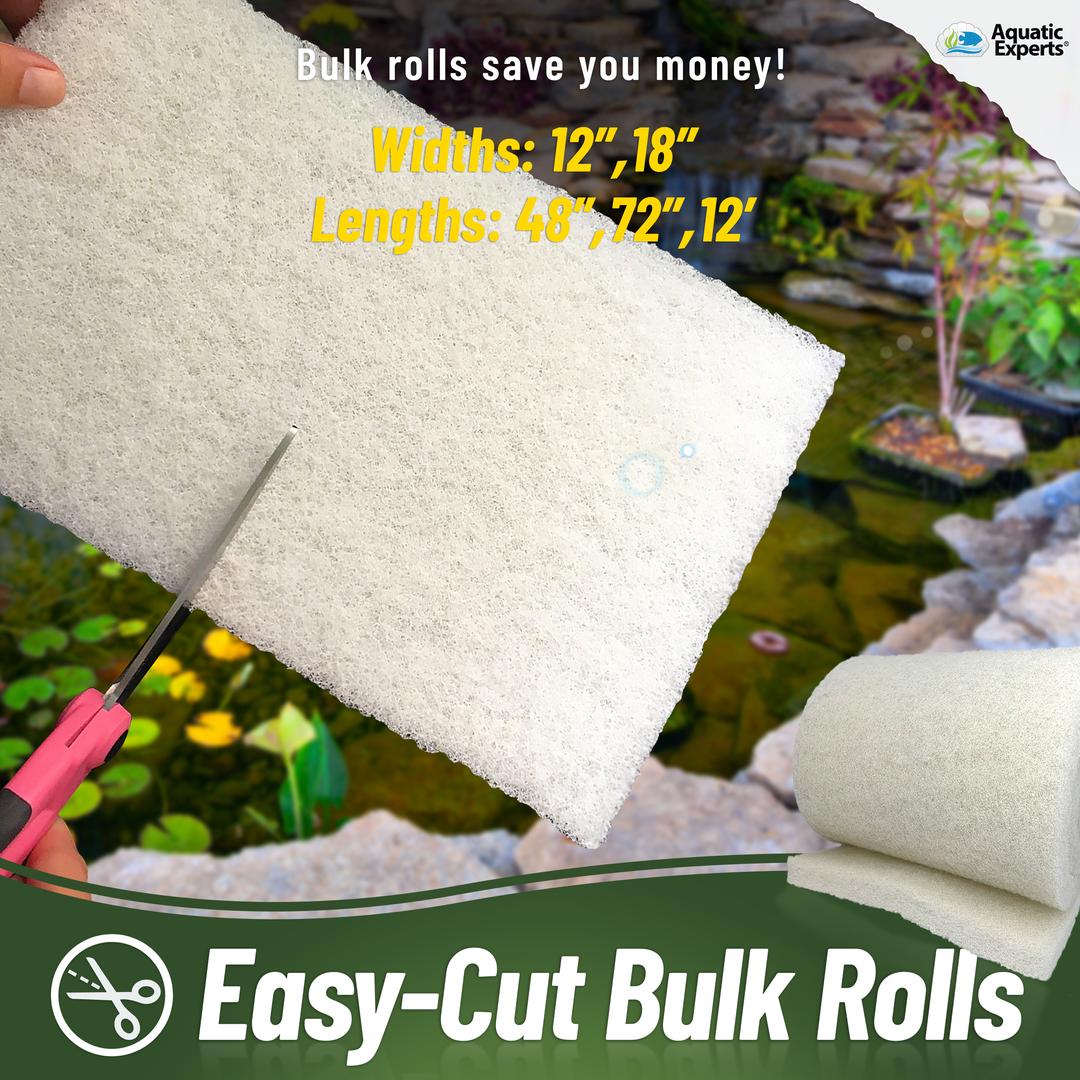 Classic Koi Pond Filter Pad FINE - White Bulk Roll Pond Filter Media, Ultra-Durable Fish Pond Filter Material USA
& Free Delivery in the USA
100% Money Back Guarantee
Frequently Bought Together
UNIQUE LATEX COATED FIBERS - Provides extra durability and strength to handle the heavy solid waste of outdoor ponds. The pond filter pads' open fiber construction allows for high volumes of water to flow through the pad without premature clogging while producing crystal-clear water.
EXCLUSIVELY MADE FOR KOI PONDS - Our 1 inch thick Classic White FINE Pond Filter Pads provide excellent mechanical pond filtration for clean water while providing important oxygenation for your ornamental garden pond. Works great in combination with our Black COARSE Koi pond filter. A perfect replacement filter for the pond.
CRYSTAL CLEAR POND WATER - Place your koi pond media filter pad in flowing water such as water being pumped through your pond skimmer box to trap to remove uneaten food, waste, decaying plants, detritus, and other large and fine floating particulates from the water. Changing filter pads regularly will INCREASE WATER QUALITY by removing solid organic compounds before they continue to break down and add additional nutrients (which can increase algae growth) to the water in your pond.
CUT TO FIT - Made in the USA! Our bulk CLASSIC WHITE FILTER PADS can easily be cut to any size needed and WILL SAVE YOU EVEN MORE MONEY over purchasing ready-made, pre-cut filter media. This Pond Filtration Media is CONSTRUCTED OF DURABLE POLYESTER FIBERS bonded by our special resin to give it EXCEPTIONAL STRENGTH.
DURABLE AND REUSABLE - Our Custom Durable Design resists warping, breaking, and tearing caused by leaves, twigs, and sticks. Easy to rinse clean with a garden hose and re-use many times. Perfect for Koi Ponds and Water Gardens! Our Classic Pond Roll's consistent, reliable design gives SUPERIOR FILTRATION.
IMPROVE WATER QUALITY- RISK-FREE GUARANTEE! - Our White Koi Pond Roll is aquatic pet safe and is made without dyes. We are committed to our 100% CUSTOMER SATISFACTION, so if you find that you are not 5-Star happy with us or our products, please contact us and we will do whatever it takes to make sure you are 100% satisfied.
Frequently Asked Questions
Yes, have the water flow through our black coarse pad to trap leaves and larger particle then flow through our white pad to trap the smaller particles from your pond water.
We suggest you make a template of your old filter out of cardboard then use the template and strong scissors or a utility knife to cut the pad.
Water should flow through the coarse filter pad trapping larger debris then through the fine filter pad. Trapping the larger debris first will keep the fine filter pad from clogging up too quickly.